Country of Origin:
United States
Production year:
1999
Directors:
Peter Shin, Michael Dante DiMartino, Roy Allen Smith, Dominic Polcino, Monte Young, Neil Affleck
Rating:
UPC [Locale]:
Disc ID: A288-3C9B-0F33-BB8F
Running time:
2:37 (157 Min.)
Casetype:
Keep Case
Format:
Color, 1.33:1, Full Frame
DVD-Format:
Single-Sided, Double-Layered
Released:
November 12, 2001
Collection type:
Owned
Status:
Available
Purchase date:
December 31, 2009
Purchase price:
Hidden
Review (movie):
Review (video):

Overview
Death Has a Shadow
Against strict orders from Lois, peter drinks profusely at his buddy's bachelor party. After showing up for work hung over, Peter gets fired. When he applies for welfare, they accidentally send him a check for $150,000, which leads to a spending binge. When Lois discovers the truth, Peter attempts to return the money to the taxpayers by dumping it from a blimp at the Super Bowl. But when he is arrested, his family must come to the rescue. Pat Summerall makes a hilarious guest voice appearance.

I Never Met the Dead Man
While teaching Meg to drive, Peter crashes into a satellite dish and knocks out the city's cable. He goes crazy without television, until Lois suggests he spends more time with his family. This plan backfires when Peter drives his family nuts. Meanwhile, after Lois forces Stewie to eat his broccoli, he attempts to destroy all vegetables by building a weather control device. Erik Estrada makes a guest voice appearance.

Mind Over Murder
When Peter goes to Chris' soccer game, he inadvertently punches a woman he thought was a man. Restless under house arrest, Peter turns the basement into a bar and Lois ends up stealing the show. Meanwhile, Stewie attempts to create a time machine to avoid teething pain. Erik Estrada makes a guest voice appearance.

Chitty Chitty Death Bang
Lois is furious with Peter when he allows Meg to attend a party the same day as Stewie's first birthday. Unbeknownst to Meg, she's actually attending a cult meeting and when Peter brings her back home, the cultleader follows. Stewie recognizes the leader as the man who wants to return him to the "ovarian bastille."

A Hero Sits Next Door
When a bubbly new family moves next door, Peter gets annoyed. Lois becomes fast friends with Debbie, Meg tries to pick up on son Kyle and Peter is forced to invite Joe to play on his company baseball team. But when Joe shows up to the game in a wheelchair and wins the crowd's hearts with his slick manoeuvres and winning plays, Peter decides he wants to be a hero too. Jennifer Tilly ("Bound") And Patrick Warburton ("Seinfeld") make special guest voice appearances.

The Son Also Draws
Chris is booted from the Youth Scouts, so Peter takes the family to the Big Apple to get him reinstated. But when Peter takes a wrong turn, they end up at a Native American casino where Lois hits the slot machine once to often. Peter must embark on a vision quest to prove his Native American blood to save the day. Stand-up comedian Bobby Slayton makes a guest voices appearance as Lenny, the pit boss.

Brian: Portrait of a Dog
Peter persuades Brian to swallow his pride and enter a dog show to win some extra cash. But when they argue over a trick gone bad, Brian decides he's had enough of being a second-class citizen. His struggle to assert his civil rights lands him on death row at the pound, where he discovers every dog has his day.
DVD Covers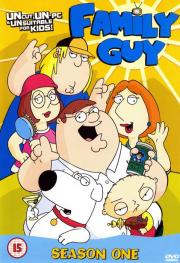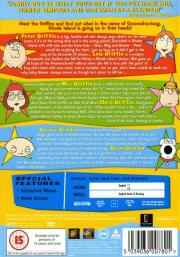 Cast
1. Death Has a Shadow
Seth MacFarlane
....
Peter Griffin / Stewie Griffin / Brian (voice)
Seth MacFarlane
....
Glen Quagmire / Tom Tucker / Additional (voice)
Alex Borstein
....
Lois Griffin / Loretta / Tricia Takanawa (voice)
Alex Borstein
....
Barbara Pewterschmidt / Additional (voice)
Seth Green
....
Chris Griffin (voice)
Lori Alan
....
Diane Simmons (voice)
Butch Hartman
....
Various (voice)
Phil LaMarr
....
Judge (voice)
Joey Slotnick
....
Dick Clark (voice)
Fred Tatasciore
....
Various (voice)
Wally Wingert
....
Various (voice)
Billy West
....
Various (voice)
Carlos Alazraqui
....
Mr. Weed (voice)
Lacey Chabert
....
Meg Griffin (uncredited, voice)
Pat Summerall
....
Himself (uncredited, voice)
2. I Never Met the Dead Man
Seth MacFarlane
....
Peter Griffin / Stewie Griffin / Brian (voice)
Seth MacFarlane
....
Glen Quagmire / Tom Tucker (voice)
Alex Borstein
....
Lois Griffin (voice)
Seth Green
....
Chris Griffin (voice)
Lori Alan
....
Diane Simmons (voice)
Butch Hartman
....
Various (voice)
Aaron Lustig
....
Various (voice)
Joey Slotnick
....
Dick Clark (voice)
Frank W. Welker
....
Various (voice)
Lacey Chabert
....
Meg Griffin (uncredited, voice)
Erik Estrada
....
Ponch (uncredited, voice)
3. Mind Over Murder
Seth MacFarlane
....
Peter Griffin / Stewie Griffin / Brian (voice)
Seth MacFarlane
....
Glen Quagmire (voice)
Alex Borstein
....
Lois Griffin (voice)
Seth Green
....
Chris Griffin (voice)
Lori Alan
....
(voice)
Carlos Alazraqui
....
(voice)
Butch Hartman
....
(voice)
Mike Henry
....
Cleveland (voice)
Wally Wingert
....
(voice)
Alex Rocco
....
Wife (voice)
Leslie Uggams
....
Herself (voice)
Lacey Chabert
....
Meg Griffin (uncredited, voice)
Erik Estrada
....
Ponch (uncredited, voice)
4. Chitty Chitty Death Bang
Seth MacFarlane
....
Peter Griffin / Stewie Griffin / Brian (voice)
Alex Borstein
....
Lois Griffin (voice)
Seth Green
....
Chris Griffin (voice)
Lori Alan
....
Various (voice)
Patrick Bristow
....
Various (voice)
Mike Henry
....
The Performance Artist (voice)
Gary Janetti
....
Various (voice)
Waylon Jennings
....
Himself (voice)
Rachael MacFarlane
....
Various (voice)
John O'Hurley
....
Cult Leader (voice)
Lacey Chabert
....
Meg Griffin (uncredited, voice)
5. A Hero Sits Next Door
Seth MacFarlane
....
Peter Griffin / Stewie Griffin / Brian (voice)
Seth MacFarlane
....
Tom Tucker (voice)
Alex Borstein
....
Lois Griffin (voice)
Seth Green
....
Brian Griffin (voice)
Carlos Alazraqui
....
Mr. Weed (voice)
Butch Hartman
....
Various (voice)
Michelle Kwan
....
Herself (voice)
Suzie Plakson
....
Various (voice)
Jennifer Tilly
....
Bonnie Swanson (voice)
Patrick Warburton
....
Joe Swanson (voice)
Wally Wingert
....
Various (voice)
Lacey Chabert
....
Meg Griffin (uncredited, voice)
6. The Son Also Draws
Seth MacFarlane
....
Peter Griffin / Stewie Griffin / Brian (voice)
Alex Borstein
....
Lois Griffin (voice)
Seth Green
....
Chris Griffin (voice)
Patrick Bristow
....
Various (voice)
Butch Hartman
....
Various (voice)
Suzie Plakson
....
Various (voice)
Kevin Michael Richardson
....
Various (voice)
Bobby Slayton
....
Lenny The Pit Boss (voice)
Fred Tatasciore
....
Various (voice)
Wally Wingert
....
Various (voice)
Lacey Chabert
....
Meg Griffin (uncredited, voice)
7. Brian: Portrait of a Dog
Seth MacFarlane
....
Peter Griffin / Stewie Griffin / Brian (voice)
Seth MacFarlane
....
Tom Tucker (voice)
Alex Borstein
....
Lois Griffin (voice)
Seth Green
....
Chris Griffin (voice)
Lori Alan
....
Diane Simmons (voice)
Mary Scheer
....
(voice)
Joey Slotnick
....
(voice)
Dick Van Patten
....
(voice)
Wally Wingert
....
(voice)
Lacey Chabert
....
Meg Griffin (uncredited, voice)