Country of Origin:
United Kingdom
Production year:
1999
Director:
Steve Bendelack
Rating:
UPC [Locale]:
794051-150028
Running time:
2:57 (177 Min.)
Casetype:
Keep Case
Format:
[Color status unset], 1.78:1 Anamorphic Widescreen
DVD-Format:
Single-Sided, Double-Layered
Released:
October 24, 2000
Collection type:
Owned (#171)
Status:
Available
Purchase date:
August 08, 2005
Purchase price:
Hidden
Review (movie):
Review (video):

Overview
Are You Local?

WELCOME TO ROYSTON VASEY
Ben struggles to take in Auntie Val and Uncle Harvey's incomprehensible house rules, while Martin poses a threat to the precious things in Tubbs and Edward's Local Shop. At the local job center, Pauline is furious when someone lands an interview without her help. Taxi driver Babs makes middling progress through her sex change.

THE ROAD TO ROYSTON VASEY
The new road is good news for everyone except Tubbs and Edward. Pauline coaches a workshop in selling The Big Issue, and we meet butcher Hilary Briss, video hounds Henry and Ally, and the formidable Reverend Bernice.

NIGHTMARE IN ROYSTON VASEY
Tubbs sees a map and discovers the world beyond Royston Vasey. Pauline buckles under pressure in the interview techniques workshop, and a terrible discovery is made on the road-building site.

THE BEAST OF ROYSTON VASEY
As the monstrous discovery drives workers to flee the road construction site. Mr. Chinnery is called in to investigate the find. Legz Akimbo, a theatre-in-education group, pays the school an eye-opening visit, and Ben is left alone with the twins.

LOVE COMES TO ROYSTON VASEY
Mike's getting married. In retrospect it may have been a mistake to let Geoff be best man. Les McQueen regales the band with reminiscences of the rock-n-roll days. The Dentons mourn the passing of Uncle Harvey's beloved toads, Sonny and Cher.

ESCAPE FROM ROYSTON VASEY
Tubbs and Edward have an unexpected visit from their son, David. It's Geoff birthday, but have Mike and Ben forgotten? Ben grows more desperate to leave his uncle's house, and it's Operation Day for Babs.
DVD Covers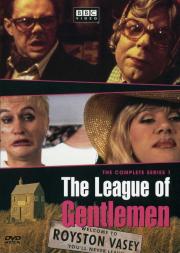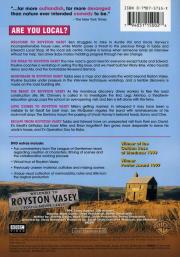 Features
Scene Access, Feature Trailers, Commentary, Deleted Scenes, Gallery, Prod. Notes/Bios, Virtual tour of Royston Vasey