Original Title:
Monty Python's the Meaning of Life
Country of Origin:
United Kingdom
Production year:
1983
Directors:
Terry Gilliam, Terry Jones
Rating:
6(Kijkwijzer)
UPC [Locale]:
5-050582-072433
Running time:
1:45 (105 Min.)
Casetype:
Keep Case
Format:
Color, 1.85:1 Anamorphic Widescreen
DVD-Format:
Single-Sided, Double-Layered
Released:
November 05, 2003
Collection type:
Owned (#237)
Status:
Unavailable ... Currently on Loan
Purchase date:
March 10, 2006
Purchase price:
Hidden
Review (movie):
Review (video):

Overview
Les six compères des Pythons reviennent avec une histoire plus dingue que jamais! John Cleese, Graham Chapman, Terry Jones, Eric Idle, Terry Guiliam et Michael Palin ont décidé de nous expliquer le sens de la vie. Ces incorrigibles Britons nous offrent les habituels sketches de bon gout qui passent évidemment par les plaisirs du sexe, les ravages de la guerre, le miracle de la naissance et en avant-gout tout special de ce qui nous attend au Paradis. Rien n'est trop sacré pour l'équipe inquisitrice des Pythons. Après les avoirs vu en action, vous ne pourrez plus jamais regarder la vie de la meme facon. C'est grandiose, direct et sacrément drole.
DVD Covers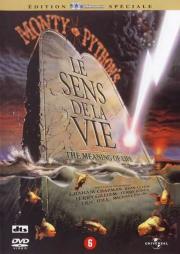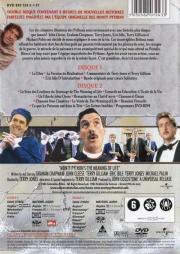 Features
Scene Access, Feature Trailers, Featurettes, Commentary, Deleted Scenes, Prod. Notes/Bios, DVD-ROM Content, Music Videos