Country of Origin:
United States
Production year:
2004
Director:
Stacy Peralta
Rating:
UPC [Locale]:
043396-060067
Running time:
1:41 (101 Min.)
Casetype:
Keep Case
Format:
Color, 1.85:1 Anamorphic Widescreen
DVD-Format:
Single-Sided, Double-Layered
Released:
January 04, 2005
Collection type:
Owned (#164)
Status:
Available
Purchase date:
August 05, 2005
Purchase price:
Hidden
Review (movie):
Review (video):

Overview
From acclaimed director Stacy Peralta comes Riding Giants, the story of big wave surfing. Breaking the mold of traditional documentary filmmaking, Riding Giants uses its dynamic, cross-generational approach to profile the lives and times of the intrepid surfers who over the decades have dedicated themselves to finding and successfully challenging the biggest waves on earth.

We meet Greg Noll, the pioneer, whose relentless push into Hawaii's big surf in the late 1950s earned him the nickname "The Bull". There's Jeff Clark, Northern California's lone frontiersman, who , after discovering the massive waves of Maverick's near San Francisco, rode there alone for over a decade. And finally Hawaii's Laird Hamilton, the prototypical "extreme" surfer, a rare breed of athlete/innovator considered the best big wave rider who ever waxed a board.

Through a fast-paced combination of mediums that include classic archival photography, spectacular movie footage—both current and vintage—and contemporary interviews with the sport's greatest surfers, experts and storytellers, Riding Giants captures the rich visual history of one of the most dramatic athletic adventures of our time.
DVD Covers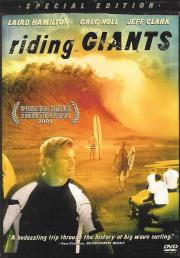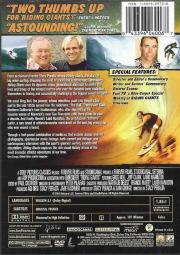 Features
Scene Access, Feature Trailers, Bonus Trailers, Featurettes, Commentary, Deleted Scenes, Closed Captioned, 4 page booklet